Details

Written by Tech Notes
Published: 14 September 2017
34 SWGOH Falcrum Pack Openings Data And Statistics (Odds)/Drop Rate
This article helps you know how many shards you get when you buy those packs in the Star Wars Galaxy Of Heroes game store, and what the average number of shards is per opening of a pack.  Below is information on real life opening on one of these pack types.  This article is specifically focused on the opening of 34 Star Wars Galaxy Of Heroes Ahsoka Tano (Fulcrum) shards pack called "Code Name: Fulcrum Pack", but the information and data should be useful for any similar pack, even if not the Fulcrum Pack.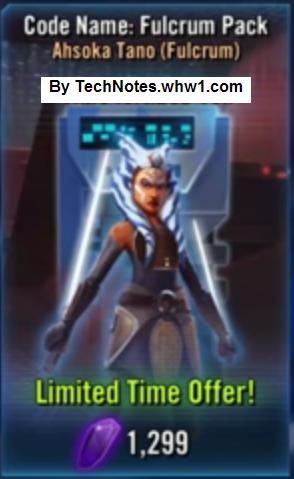 This is the pack that was opened 34 times.
Each opening costs 1,299 crystals.
Please note that I do not get paid for writing these articles.
It took about 2.5 hours to make this article.
Table, Chart, And Graph of Pack Opening Data.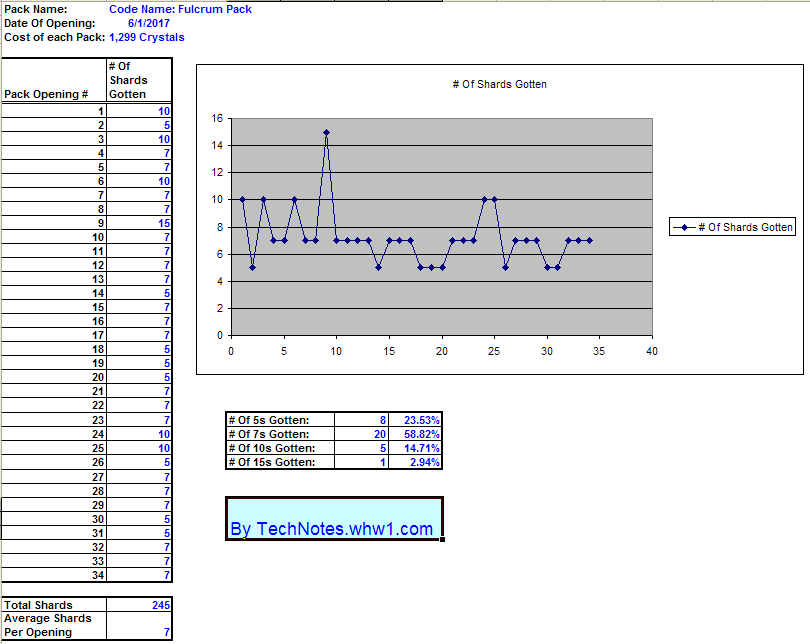 Please click on the image to see it larger.
After 34 continuous shard pack openings, it was determined that that average shard quantity dropped is 7. 


It ranges quantity number is from 5 to 15. 


It provides (drops) the numbers of 5, 7, 10, and 15 only.
Total shards after 34 openings was 245.
Quantity Of 5s Gotten:        8    (23.53%)
Quantity Of 7s Gotten:        20    (58.82%)
Quantity Of 10s Gotten:        5    (14.71%)
Quantity Of 15s Gotten:        1    (2.94%)
Consider Contributing
Article Contribution:
Consider submitting an article of your own to Tech Notes.  I will create a sub-category for your article if needed.  Guest articles are welcome!


Financial Contribution:
If you found this article or any Tech Notes article useful, and you'd like to make a financial contribution as a simple thanks (no fear, any small amount can be given), you can use the Paypal contribution button which is safe and

does not require

you to have a Paypal account to make a contribution to Tech Notes. 
Feel Free To Leave A Good Comment. :)
Look around this site and it's menus, and you may find other useful articles.