Access or Enable Thunderbird Profile Manager
Please note that I do not get paid to write these articles. Hopefully, you find them useful.
Example Of Who Needs This
If you use Thunderbird with multiple profiles, and suddenly the Thunderbird Profile Manager no longer comes up and you go straight into a Profile, or you simply want to be able to make multiple profiles and need access to the Thunderbird Profile Manager, then this article is for you.
Intro and Scenario

On a computer station, suddenly for an unknown reason, the Profile Manager stopped coming up, and every time Thunderbird was started, it would start in one of the profiles, which was last used.  There were no settings that I could see in the Tools or options of Thunderbird to cause it to restart with the Profile Manager displayed first.
So, this is how you make the Thunderbird Profile Manger show upon start of Thunderbird.  If you do not know this simple line, then things are a huge headache and stressful and it could involve lots of searching and reading on the Internet to figure it out.
Please note that I do not get paid for these articles and they are done with best effort.
To Start Thunderbird Profile Manager
Execute the command thunderbird.exe -p.  This should work on any computer operating system (Windows, Linux, Max, etc.)
In a Windows operating system, you would execute the command line using the Run selection or the Run field.
For example on a Window XP go to Start >> Run >> type "thunderbird.exe -p" >> click OK: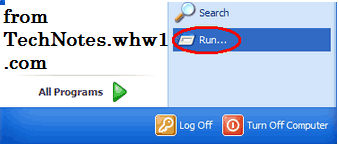 When you run the above command, something like the following should show.  You need to UNCHECK the checkbox that says "Don't ask at startup" to have Thunderbird Profile Manager show automatically when you start Thunderbird without having to execute the command of thunderbird.exe -p.


Feel Free To Leave A Good Comment. :)
Look around, and you may find other useful articles. Add this site to your Bookmarks/Favorites for easy return for new articles. Consider submitting technical articles for publication, including your embedded links. I will even create a new category if needed.